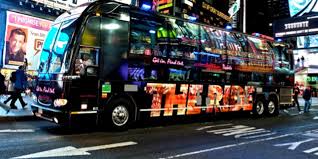 Have you heard of The Ride?
I have seen this bus in my travels around New York and have always wondered what it was all about! THE RIDE uses New York City and its renowned landmarks as the backdrop for a theatrical event that blurs the boundary between tour and performance. The city becomes a stage, and soon you can't tell where the street ends and the show begins!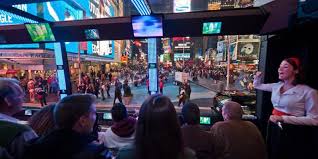 THE RIDE gives you a front-row seat to the streets of New York City in a multi-million dollar motor coach that comes equipped with state-of-the-art audio/visual technology, including 40 plasma screen TVs and over 3000 LED lights. Enjoy the performance from the comfort of one-of-a-kind stadium seating and huge panoramic windows. I have seen people riding and sitting in these seats. It looks very futuristic! I can't wait to give it a try.


While navigating a 4.2-mile midtown path, our performers and native New Yorkers alike become performers for THE RIDE, showing guests an entirely new side of New York City they can't see anywhere else. As a native New Yorker I don't have much experience with hopping on these tour buses, but this one looks fun. New York with a twist!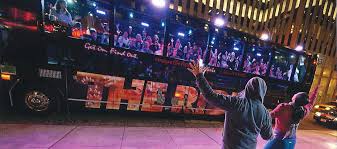 I'll keep you posted and let you know what the family and I think about our experience. Check back for our review! If you've been I'd love to hear your thoughts!
Discount Code:
Get On, and Experience the Ride.Click and get $50 OFF Your Next Party with THE RIDE!
– See more at: http://www.experiencetheride.com
Have you ever been on The RIDE NYC? What do you think?
Disclosure: I was not compensated for this post. As a USFamilyGuide Blogger I will receive complementary tickets for my post.