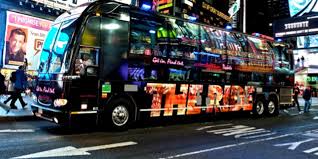 Last Tuesday my family and I experienced the Ride NYC and it was a blast! As a native New Yorker I didn't know what to expect here that would be any different from any other tour, but I was wrong. The Ride NYC is an experience that both locals and tourists can enjoy.
This custom-made bus allows the riders to become "the audience" in an entertainment event that uses the city as its stage. Every seat on this bus is a "good" seat as you are seated stadium style. Two tour guides/entertainers narrate and set the scene for you.
Our Ride was hosted by Scott and Jackie. The had the crowd involved and laughing all along the way. Not only did I learn some surprising facts about the city I love, but we were also surprised by several street performers.
During the ride we witness seemingly normal individuals that break out into song or dance, they are wearing body mics and can interact with the bus. This rapper was one of my favorites. The reaction of people on the street is priceless. (Or if they are true New Yorker they just keep walking! LOL!)
The top of the bus is also encased in glass and let's riders have a fantastic view from down below! You never know what's going to happen on The Ride. It's performance after performance. We were also told that they are putting a special holiday Ride together. Something you might want to consider for your holiday plans!
This performance blew me away. The artistry of the dancer and the architecture of Columbus Circle were the perfect combination of beauty and entertainment. The Ride last 70 minutes and the time just flew. I was there was an encore! My son told me that he could have stayed on the bus forever.
I highly recommend the Ride NYC! The Ride is not recommended for children under 6, families are welcome to join the fun right here in Times Square.
Save on The Ride NYC:
Save $20 per ticket for The Ride using the code USFTR at checkout on www.theridenyc.com Save $24 per ticket AND get two tickets free for parties of 10 or more with groupsales@experiencetheride.com
Expires: Dec. 31st, 2016
Coupon Brought to You by USFamilyGuide.com
Who would you bring on The Ride?
Disclosure: I received tickets for the RIDE in order to facilitate this review. All thoughts belong to me.