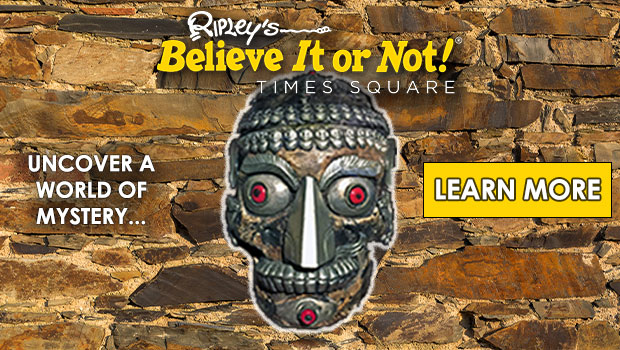 Last week, my son and I were given complimentary tickets to Ripley's Believe It Or Not Times Square and we had a blast. Right in the heart of Times Square, Ripley's let's you pop out of the city and into a world all of its own. Perfect for a break, a pre-show visit, to get out of the rain, and just to wonder in all that is odd!
As soon as you enter the building, you will be amazed at all there is to look at and learn. We arrived early so we didn't have to worry about crowds. We stopped in before we our Broadway show. If you allow yourself at least 2 hours you can make through this gem. Although you might want to give yourself more time if you plan on reading all the information available to you.
About Ripley's Times Square:
Ripley's Believe It or Not! Times Square invites guests of all ages to experience the unbelievable mysteries of our world. Home to rare artifacts and thrilling interactive exhibits, this one-of-a-kind attraction in NYC is perfect for those who want to immerse themselves in the unusual, the unexpected and the unbelievable. Only at Ripley's Believe It or Not! Times Square will families rediscover wonder around every corner. Currently the largest "Believe It or Not!" in North America with over 20 galleries and more than 500 artifacts from the unique Ripley's Collection.
We love the pics that we took while playing around with the optical illusions they had available. You know this is an Instagram hit. My son loved his pictures.
Videos, photos, statues, and plaques let you learn about some amazing people. If you are lucky there might be a photo opportunity available as well.
There is also a section that has challenges for people. I don't think I have moved this fast in a long time! My son and I played against each other in Ripley's Smash Dash. It was so fun! Other challenges are available for free, but bring some singles if you want Zoltar to read your future. I'm so bummed I missed this one because I only had coins!
There are surprises around every corner. I had taken my family a few years ago and it's still just as fun with even a few updates. I'm happy to be able to offer my readers a discount, so you and your family can have as much fun as we did at Ripley's.
The Discount Code:
Save $10 off up to 8 admissions Ripley's Believe It or Not! Times Square when you present this coupon OR use promo code USFAMILY online at https://www.ripleysnewyork.com https://www.usfamilycoupons.com/coupon.php?bid=13689&dealid=3605
Disclosure: I was given free admission in exchange for a review. All thoughts belong to me and have not been influenced.