PLAY ALONG WITH BELOVED PUPPY BLUE AS
BLUE'S CLUES & YOU! MAKES IT DVD DEBUT
About Blue's Clues & You:
In the Blue's Clues & You! DVD collection, fans can help Josh solve games of Blue's Clues as he tries to figure out what Blue wants for a snack, what present she wants for her birthday, what she would like to do on her playdate and more. The DVD will also include special episodes from Josh & Blue's VLOG and eight bonus American Sign Language flashcards. Blue's Clues & You! will be available from Nickelodeon and Paramount Home Entertainment exclusively at Walmart on June 2, 2020 for the suggested retail price of $10.99 U.S.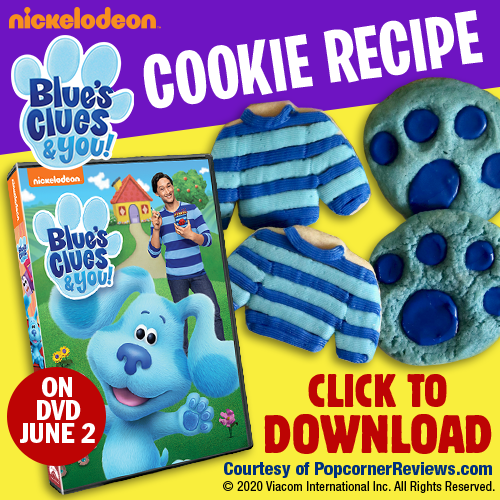 Blue's Clues & You! Episodes:
Meet Josh!
Happy Birthday, Blue!
Playdate with Magenta
Big News with Blue
Special Features:
How to Play Blue's Clues Song
Josh & Blue's VLOG!
ABC Song, Hide & Seek + Dancing!
Holiday Shopping, Mailtime, Nursery Rhymes & More!
Garden Sing Along, Touring School & Mailtime with Blue's Clues!
Soccer Tricks, Gopher Game & Color Song!
American Sign Language Lesson, Nursery Rhymes & Mailtime!
Planets Song, Find The Snail Game & Mailtime!
American Sign Language Word of the Week

Blue's Clues
Thankful
Music
The Giveaway:
One lucky Be Your Best Mom reader will win a copy of their own on DVD! It's easy to enter! Must be 18 years or older.US Only. Winner will be chosen at random. Giveaway ends June 12, 2020. Good luck and thanks for entering!
Leave a comment for each entry!
Each comment is worth 1 entry with the exception of subscribers! Subscribers get 5 entires! If you are a subscriber leave a comment with the email address you have subscribed with and if you want to be a subscriber Click HERE to sign up!
Easy Entry: Just leave a comment telling me who you would like to give this DVD to if you win!
Other ways to enter! Do one or do them all 1 entry each!
1. Follow me on twitter https://twitter.com/beyourbestmom
2. Share this contest on your Facebook page using the button on the bottom of the post and share that link in your entry comment here.
3. Tweet daily and leave a comment daily that you have done this. (That's a daily entry! Just use the button below this post!)
4. Extra entry for leaving a comment on a non-giveaway post – you must leave a comment here as well to tell me that you have done so to get the entry.
5. Follow Be Your Best Mom on Instagram and leave me a comment here that you have done so!
6. Follow Be Your Best Mom on Pinterest and leave a separate comment!
Be sure to leave a separate comment for each entry! Winner will be chosen at random.
Good luck!