Hurds Family Farm hosted my family and I last weekend and we had a blast! Since we live in apple country ourselves we haven't been officially picking much since the boys were little. We attended a few school field trips here at Hurds and have many fond memories.
About Hurds Family Farm:
We are a 7th generation family farm. Our 120 acre pick your own apple and pumpkin orchard is just minutes from the NYS thruway, 1.5 hours from NYC. There are over 35 activities to keep kids engaged including a hayride, bounce pillow, corn maze, apple launcher, cow train, obstacle course, playground and so much more. Everything in our cafe is made with our home grown apples and produce. People LOVE our fresh made cider donuts and all the local farm to table goodies in our Dutch barn farm market. In the Fall we host school field trips & birthday parties, Christmas trees in the Winter & you can rent the whole farm in the Summer for private events, birthday parties or camp field trips.
Hurds has tons of activities for kids of all ages. You can literally spend the entire day on the farm and not get bored or have your kids asking for more. If you don't want to spend the day there you could probably go on a hayride, pick apples and even go through the corn maze in less than 2 hours.
There are plenty of places to sit and The Big Apple Cafe sells food, drinks, and snacks. My boys enjoyed the apple cider slushies and of course the yummy cider donuts! My husband I loved the hot apple cider! It was drizzling a bit during our visit, but that didn't seem to stop anyone from having fun. While up at the barn shop a local group of musicians were on hand playing music and adding to the wonderful Fall atmosphere.
While most of the activities are for the younger set, my teens did enjoy taking turns at the apple launcher. You place apples in the giant sling shot and see how far they go. They even had a competition with each other.
The corn maze is always a favorite of ours! I was a bit worried we would get lost, but that is the point. This was fun and challenging. Hurds also added a photo challenge. They give you a map of the maze and have stations set up with different themes inside the maze for you to take photos and post. So, much fun!
You can come and pick apples and pumpkins every day from 9 AM to 5PM from August 31st to November 3rd. You can pre-purchase tickets online or pay when you arrive. They have many offers available so be sure to visit their website at https://www.hurdsfamilyfarm.com/ to see what's right for you. They also have group, field trip information and party packages available.
Hurds Family Farm website also lists what apples they have available for picking. It changes throughout the months as they become ripe. If you have a favorite be sure to check its availability. There is nothing like a fresh apple picked right from the tree. My family and I have been eating them non-stop! I still haven't been able to make anything with them and they are almost gone. I might have to go back!
Honestly, I had as much fun as the kids. My car battery even died and the parking lot attendant was right on top of helping me out and giving me a jump. The staff that we interacted with were friendly and polite. Hurds Family Farm is a must visit in the Hudson Valley. They have something for everyone.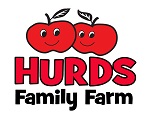 Visit: https://www.hurdsfamilyfarm.com/ for more information!
Disclosure: My family and I were hosted during our visit to Hurds. All thoughts belong to me and have not been influenced.