The Casagrandes: The Complete First Season Now on DVD
About The Casagrandes:
Ronnie Anne is an independent, skateboard loving 11-year-old who moved to the big city with her mom and brother to live with their extended family, the Casagrandes. Her new life promises to be an adventure, now that she's living under one roof with her grandparents, aunt, uncle, cousins, and a sass-talking parrot. As if that weren't enough excitement, her bedroom is directly below the bedroom of her best friend, Sid. And on the ground floor is the family run market (the Mercado), which is a gathering place for all their quirky neighbors. While her brother Bobby helps run the Mercado with their gossip-loving Abuelo, Ronnie Anne and Sid explore the city, making fun new friendships along the way. She's also getting to know everyone in her bustling multigenerational Mexican-American family. Her new life is full of new discoveries, love, laughter and plenty of food!
The Casagrandes: The Complete First Season episodes:
Disc One:
Going Overboard / Walk Don't Run
The Two of Clubs / Vacation Daze
New Haunts / Croaked
Snack Pact / The Horror-Scope
Arr in the Family / Finders Weepers
Stress Test / How to Train Your Carl
Operation Dad
Flee Market / Copy Can't
Away Game / Monster Cash
Trend Game / This Bird Has Flown
Disc Two:
V.I.Peeved / Señor Class
Fast Feud / Never Friending Story
Grandparent Trap / Miss Step
Slink or Swim / The Big Chill
Karma Chameleon / Team Effort
Guess Who's Shopping for Dinner? / New Roomie
Mexican Makeover / Uptown Funk
Bo Bo Business / Blunder Party
Cursed!
What's Love Gato Do With It? / Dial M. for Mustard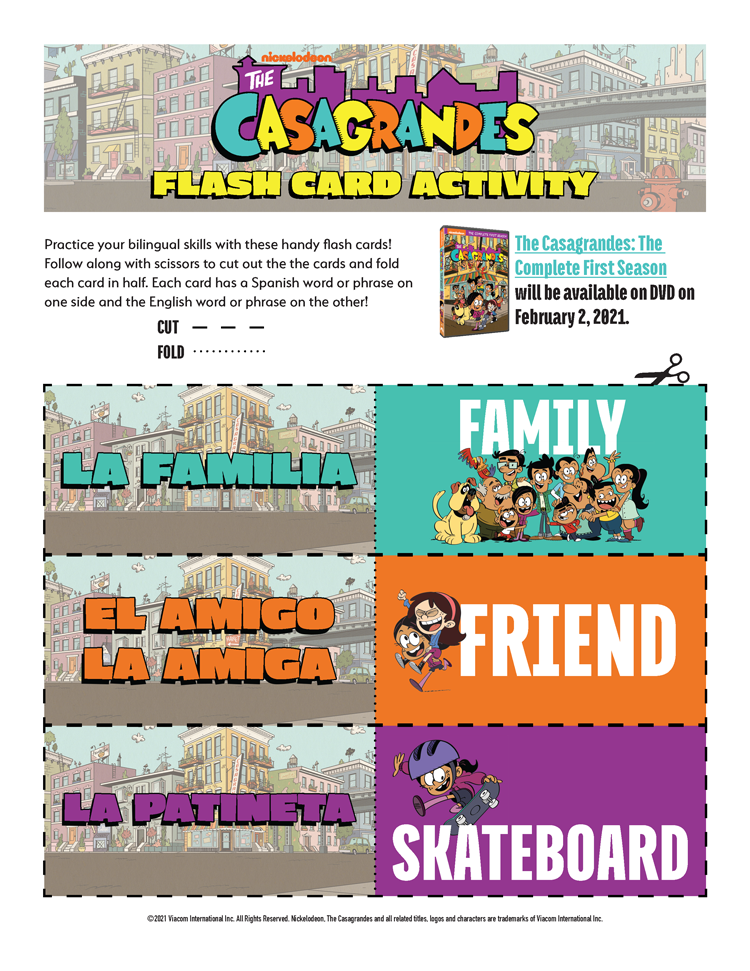 Learn to speak Spanish with the help of the Casagrandes with these printable flash cards! Just click on the image and print!
THE GIVEAWAY:
One Be Your Best Mom reader will win the first season on DVD!
Must be 18 years or older. US Only. Winner will be chosen at random.
Giveaway ends February 18, 2021. Good luck and thanks for entering!
Leave a comment for each entry!
Each comment is worth 1 entry with the exception of subscribers! Subscribers get 5 entires! If you are a subscriber leave a comment with the email address you have subscribed with and if you want to be a subscriber Click HERE to sign up!
Easy Entry: Just leave a comment telling me who you'd like to gift with this DVD!
Other ways to enter! Do one or do them all 1 entry each!
1. Follow me on twitter https://twitter.com/beyourbestmom
2. Share this contest on your Facebook page using the button on the bottom of the post and share that link in your entry comment here.
3. Tweet daily and leave a comment daily that you have done this. (That's a daily entry! Just use the button below this post!)
4. Extra entry for leaving a comment on a non-giveaway post – you must leave a comment here as well to tell me that you have done so to get the entry.
5. Follow Be Your Best Mom on Instagram and leave me a comment here that you have done so!
6. Follow Be Your Best Mom on Pinterest and leave a separate comment!
Be sure to leave a separate comment for each entry! Winner will be chosen at random.